Kartini Oil & Candlenut Creme Duo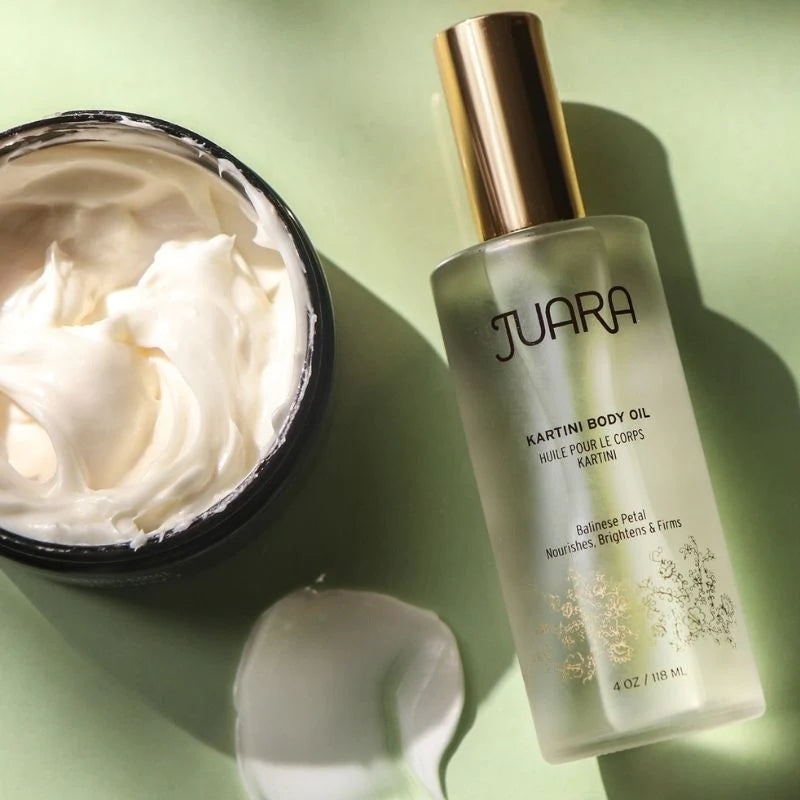 Kartini Oil & Candlenut Creme Duo
Regular price
$15900 NZD
$159.00 NZD
Sustainably grown ingredients. Cruelty free. No nasties.
Nourish and hydrate the skin for a radiant glow
Nourish your skin from head to toe with our two most-loved body products: Kartini Body Oil and Candlenut Body Creme -- both known for their heavenly scents and delicious results.
 Moisturize with body oil alone or mix with our JUARA Candlenut Body Creme for an extra dose of moisture. This fast-absorbing formula has a delicate finish and gives your body a luminous glow.
.*If this is a gift, please let us know what you would like to say. Just add you note in the delivery instructions. 
The rich essential fatty acids of the all-over body Candlenut Body Creme nourish even the driest of skin with ease. It won't leave your skin greasy or sticky, and its hydrating benefits keep your skin irresistibly smooth.
JUARA Kartini Body Oil is a dry-oil that will restore, hydrate and nourish your skin, leaving a visible, radiant glow. Light as air, yet packed with rich antioxidants like plumeria, this ultra-luxe formula feels like silk on skin and renders skin unbelievably smooth.
CANDLENUT BODY CREME: 
Rich in essential fatty acids, our creme formula nourishes even the driest of skin with ease.

Light non-greasy texture quickly absorbs to replenish skin and keep it hydrated 

Features omega-rich candlenut, avocado and carrot seed oils with antioxidant vitamin E and indulgent Illipe butter.

Antioxidant and anti-inflammatory ingredients help protect skin from environmental stress, sun damage, and dry climate.
CANDLENUT BODY POLISH 1.5 oz 
A non-greasy oil that deeply penetrates the skin to quickly absorb and provide long-lasting moisture.

Can be used on hair for extra strengthening and shine. 

Boosts skin with firming ingredients and enhances skin elasticity
KARTINI BODY OIL 4.0 oz Apply a few drops in your hands. Apply all over body (on wet or dry skin after showering). Apply any excess oil on your hands to the ends of your hair for light, non-greasy shine and repair.
CANDLENUT BODY CREME 7.5 oz Use daily for maximum benefits. Apply generously on cleansed skin or anytime skin feels dry.
KARTINI BODY OIL 4.0 oz
Key Active Ingredients:
Turmeric Oil: Brightens, contains powerful anti-inflammatory properties, and provides antioxidant protection from free radicals that can damage the skin. A millenia-old staple of Indonesian health and beauty treatments.
Plumeria Flower (Frangipani): Moisturizes and soothes skin, and provides natural UV protection. A popular flower used in Indonesia because of its intoxicating scent and nourishing properties. 
Passion Fruit Oil: Calms skin and provides vitamin-rich nourishment. A good source of Vitamins A & C, Fatty Acids, Minerals & Flavonoids, this oil has natural anti-inflammatory and helps prevent tissue damage caused by free radicals.
Moringa Oleifera: Firms and boosts collagen production. On the skin, Moringa helps to prevent wrinkles, slow premature aging, and protect the dermal cells from external damage.
Coconut Oil: Naturally Antiseptic, anti-bacterial, nourishes, and hydrates skin. 
Candlenut Oil: Moisturizes and softens skin with a non-greasy, velvety feel. Rich in linoleic and linolenic acid, candlenut oil moisturizes and helps mend rough, chapped skin.
All Ingredients: Caprylic/Capric Triglycerides*, Tridecane*, Undecane*, Sunflower (Helianthus Annuus) Seed Oil, Fragrance, Turmeric (Curcuma Longa) Root Extract, Coconut (Cocos Nucifera) Oil, Candlenut (Aleurites Moluccana) Oil, Rice Bran (Oryza Sativa) Oil, Avocado (Persea Gratissima) Oil, Frangipani Flower (Plumeria Acutifolia) Extract, Passion Fruit (Passiflora Edulis) Seed Oil, Moringa (Moringa Oleifera) Seed Oil*, Tocopherol.
*NPA, Ecocert, or COSMOS Approved l GMO-Free

CANDLENUT BODY CREME 7.5 oz
Key Active Ingredients
Candlenut Oil: Moisturizes and softens skin with a non-greasy, velvety feel. Rich in linoleic and linolenic acid, candlenut oil moisturizes and helps mend rough, chapped skin.
Rice Bran Oil: Maintains elasticity. Rich in natural Vitamin E and essential fatty acids, rice bran oil intensely hydrate and help maintain youthful elasticity.
Avocado Oil: Nourishes and calms. Traditionally used in Indonesia, Avocado Oil is richly hydrating and highly soothing.
Illipe Butter: Moisturizes and protects. Provides a cushiony barrier to protect skin from dehydration, hard water, and harsh elements.
All Ingredients: Water/Eau, Cetearyl Ethylhexanoate, Emulsifying Wax NF, Cyclomethicone, Illipe (Shorea stenoptera) Seed Butter, Candlenut (Aleurites moluccana) Oil, Avocado (Persea gratissima) Oil, Stearyl Alcohol, Rice Bran (Oryza sativa) Oil, Dimethicone, Carrot (Daucus Carota sativa) Seed Oil, Potassium Hydroxide, Carbomer, Fragrance/Parfum, Phenoxyethanol, Caprylyl Glycol, Glycerin, Glyceryl Caprylate, Phenypropanol.