Kartini Body Oil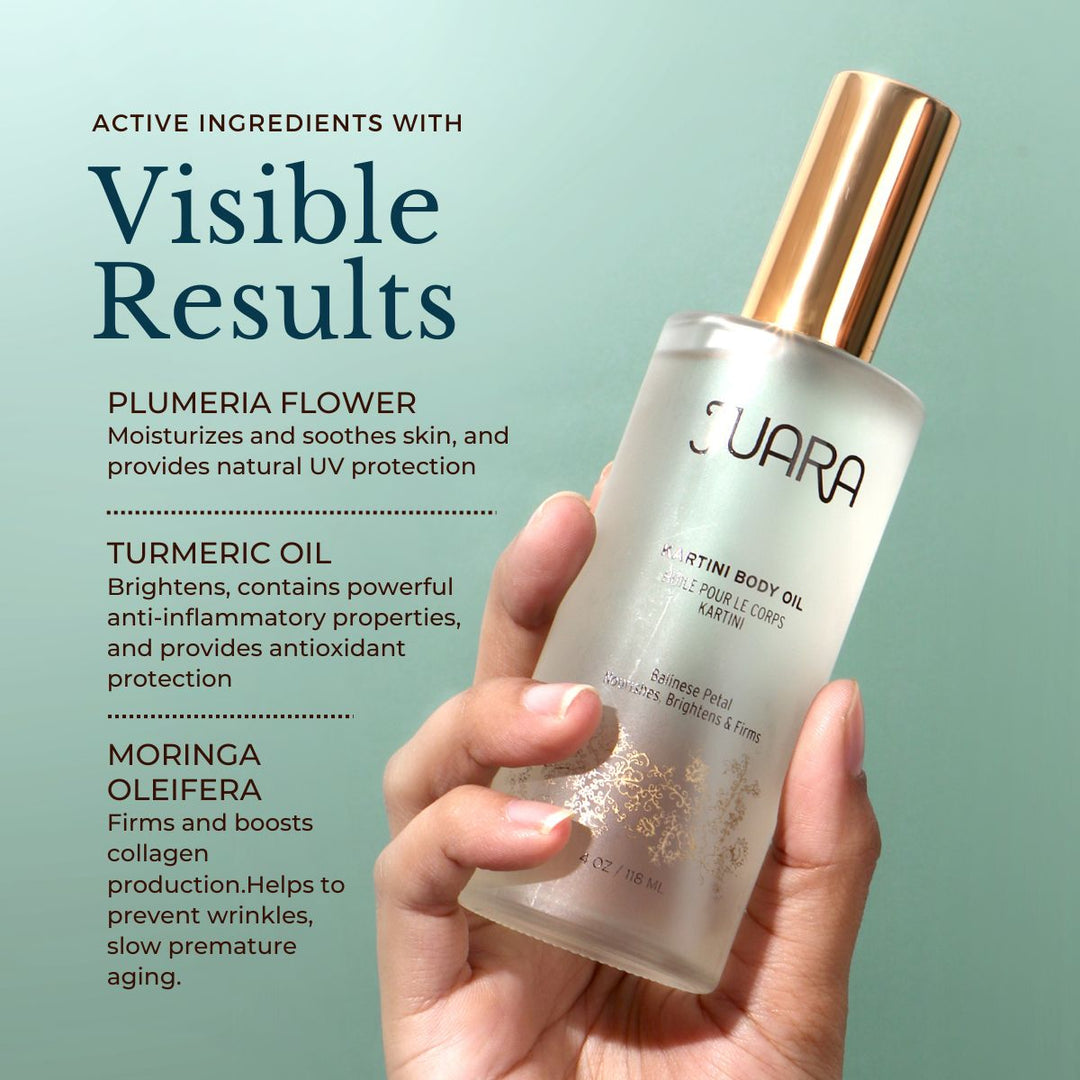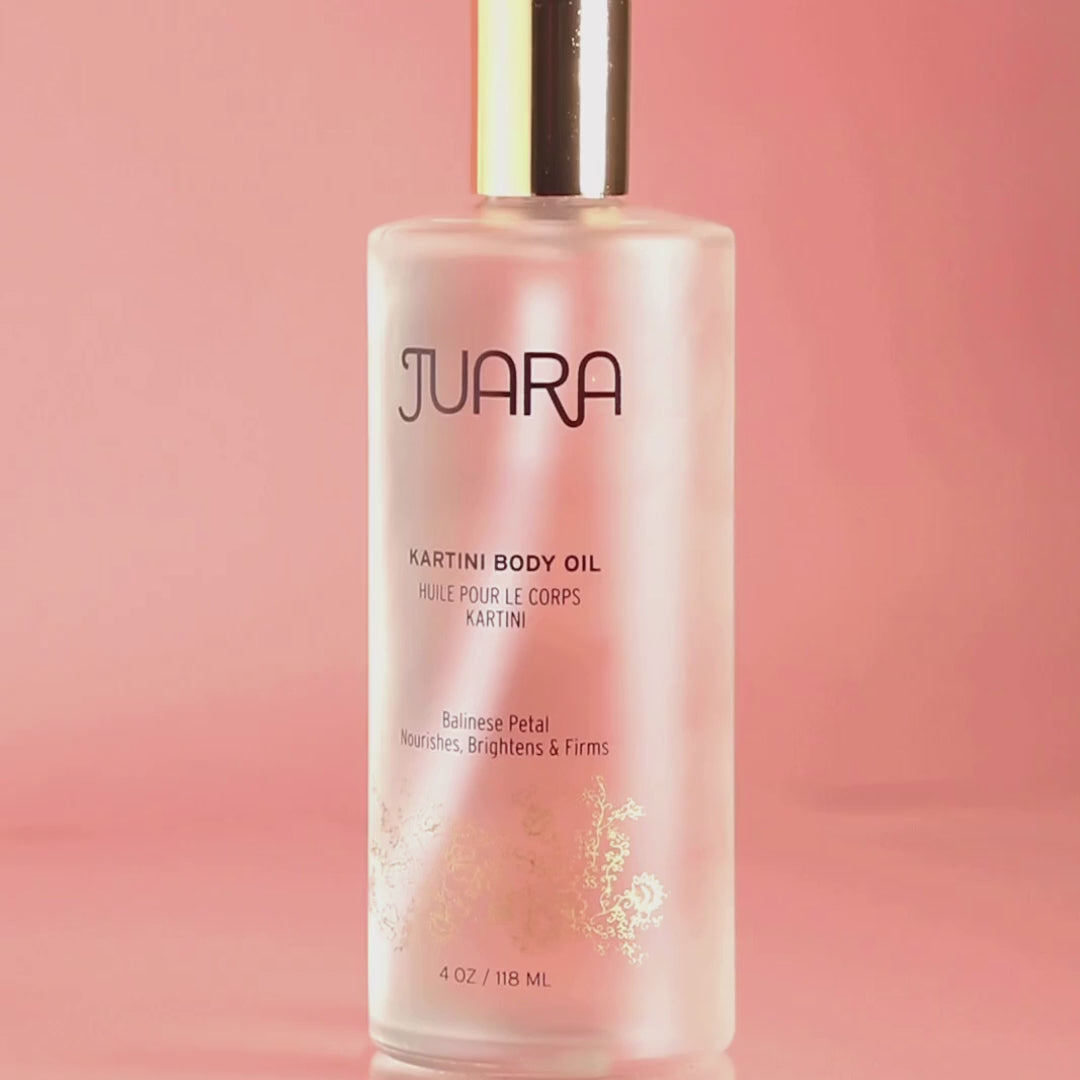 Kartini Body Oil
Regular price
$12000 NZD
$120.00 NZD
Sustainably grown ingredients. Cruelty free. No nasties.
Our Kartini Body Oil is a luxurious, premium dry oil that hydrates and rejuvenates skin, leaving it silky smooth with a noticeably visible glow.
Soothing plumeria, skin-brightening turmeric, vitamin-C-rich passionfruit, moringa oleifera, and omega-packed candlenut oils in this radiance-boosting formula works quickly to restore your body, keeping your skin looking regal. Added vitamin-rich rice bran, avocado, and coconut oils make this fast-absorbing formulation unlike any other body oil you've experienced. This oil is also good for very dry hair, as it's light and not greasy at all.
This beautiful body oil was named for one of Indonesia's most beloved royalty. Our product's namesake, Princess Kartini, is remembered for courageously using her power to advocate for the emancipation of women and the education of children in the 1800s.
Scent: Warm and subtly sweet with notes of lush tropical greens, freesia, bergamot, rose, blooming white jasmine, and a touch of fresh coconut.
Texture: Silky and lightweight, quick-absorbing dry oil
Color: Colorless
A light, ultra-luxe formula made to nourish your skin.

A non-greasy oil that deeply penetrates the skin to quickly absorb and provide long-lasting moisture.

Can be used on hair for extra strengthening and shine.

Boosts skin with firming ingredients and enhances skin elasticity
Apply morning and evening after bathing or showering, or whenever the skin feels dry.

Using a few drops of oil, apply the product all over your body, on wet or dry skin following cleansing.

Gently massage the product into the skin until it is fully absorbed.

Apply any excess oil on your hands to the ends of your hair for light, non-greasy shine, and repair.

For a relaxing bath, add a few pumps in bath water for a nourishing experience. For a body massage, add 1-2 drops of almond oil to a couple of pumps of Candlenut Glow Body Oil
Kartini Body Oil pairs well with JUARA Candlenut Body Cream for an even deeper, richer hydration. For best results, simply combine a dollop of cream with several pumps of body oil in the palms of your hands. Apply the mixture to wet or damp skin and massage the product into the skin until it is fully absorbed. The result is a luminous full body glow that lasts.
Turmeric Oil: Brightens, contains powerful anti-inflammatory properties and provides antioxidant protection from free radicals that can damage skin. A millenia old staple of Indonesian health and beauty treatments.
Plumeria Flower (Frangipani): Moisturizes and soothes skin, and provides natural UV protection. A popular flower used in Indonesia because of its intoxicating scent and nourishing properties. 
Passion Fruit Oil: Calms skin and provides vitamin-rich nourishment. A good source of Vitamins A & C, Fatty Acids, Minerals & Flavonoids, this oil has natural anti-inflammatory and helps prevent tissue damage caused by free radicals.
Moringa Oleifera: Firms and boosts collagen production. On the skin, Moringa helps to prevent wrinkles, slow premature aging, and protect the dermal cells from external damage.
Coconut Oil: Naturally Antiseptic, anti-bacterial, nourishes, and hydrates skin. 
Candlenut Oil: Moisturizes and softens skin with a non-greasy, velvety feel. Rich in linoleic and linolenic acid, candlenut oil moisturizes and helps mend rough, chapped skin.
All Ingredients: Caprylic/Capric Triglycerides*, Tridecane*, Undecane*, Sunflower (Helianthus Annuus) Seed Oil, Fragrance, Turmeric (Curcuma Longa) Root Extract, Coconut (Cocos Nucifera) Oil, Candlenut (Aleurites Moluccana) Oil, Rice Bran (Oryza Sativa) Oil, Avocado (Persea Gratissima) Oil, Frangipani Flower (Plumeria Acutifolia) Extract, Passion Fruit (Passiflora Edulis) Seed Oil, Moringa (Moringa Oleifera) Seed Oil*, Tocopherol.
*NPA, Ecocert, or COSMOS Approved l GMO-Free