Miracle Tea Eye Creme For Bags Under Eyes With Turmeric, 0.5 oz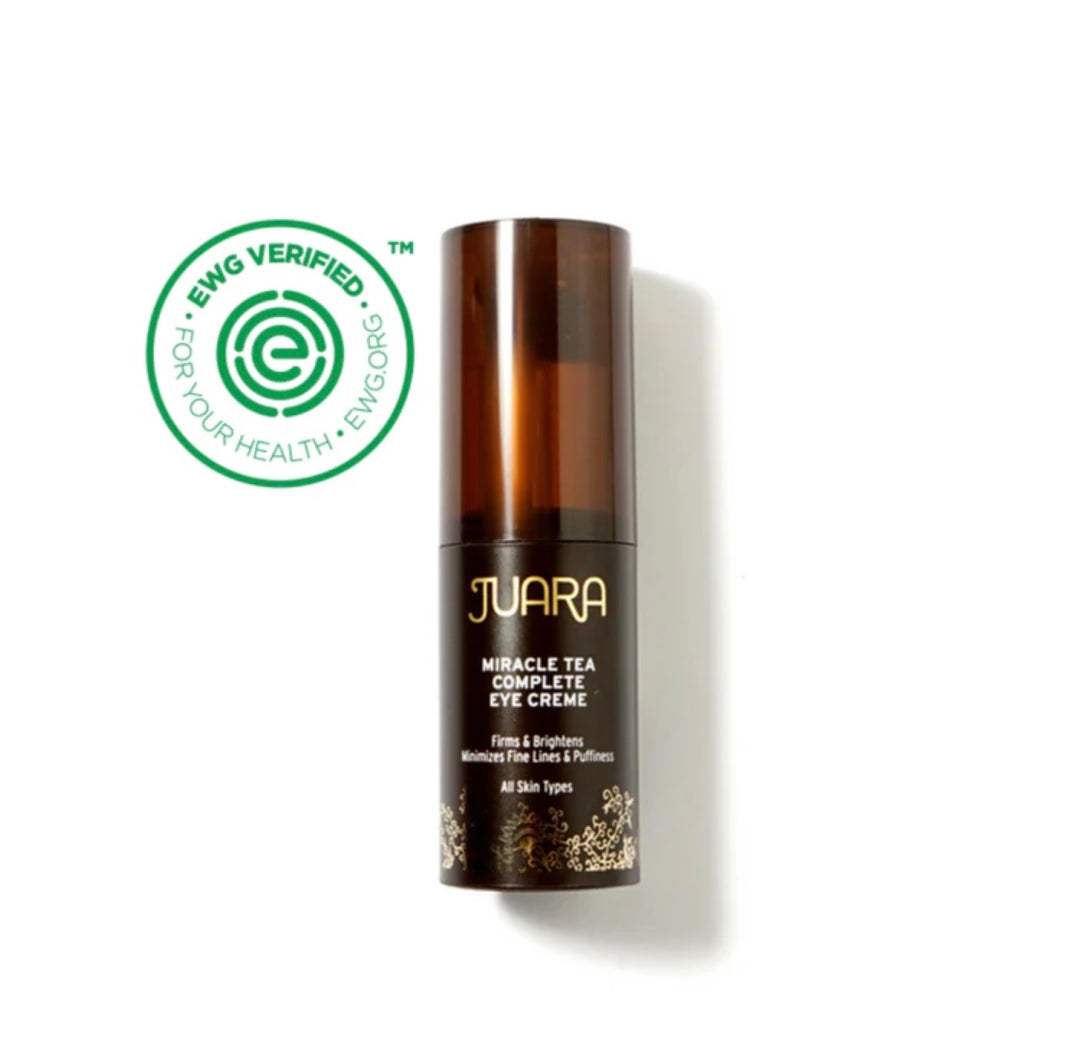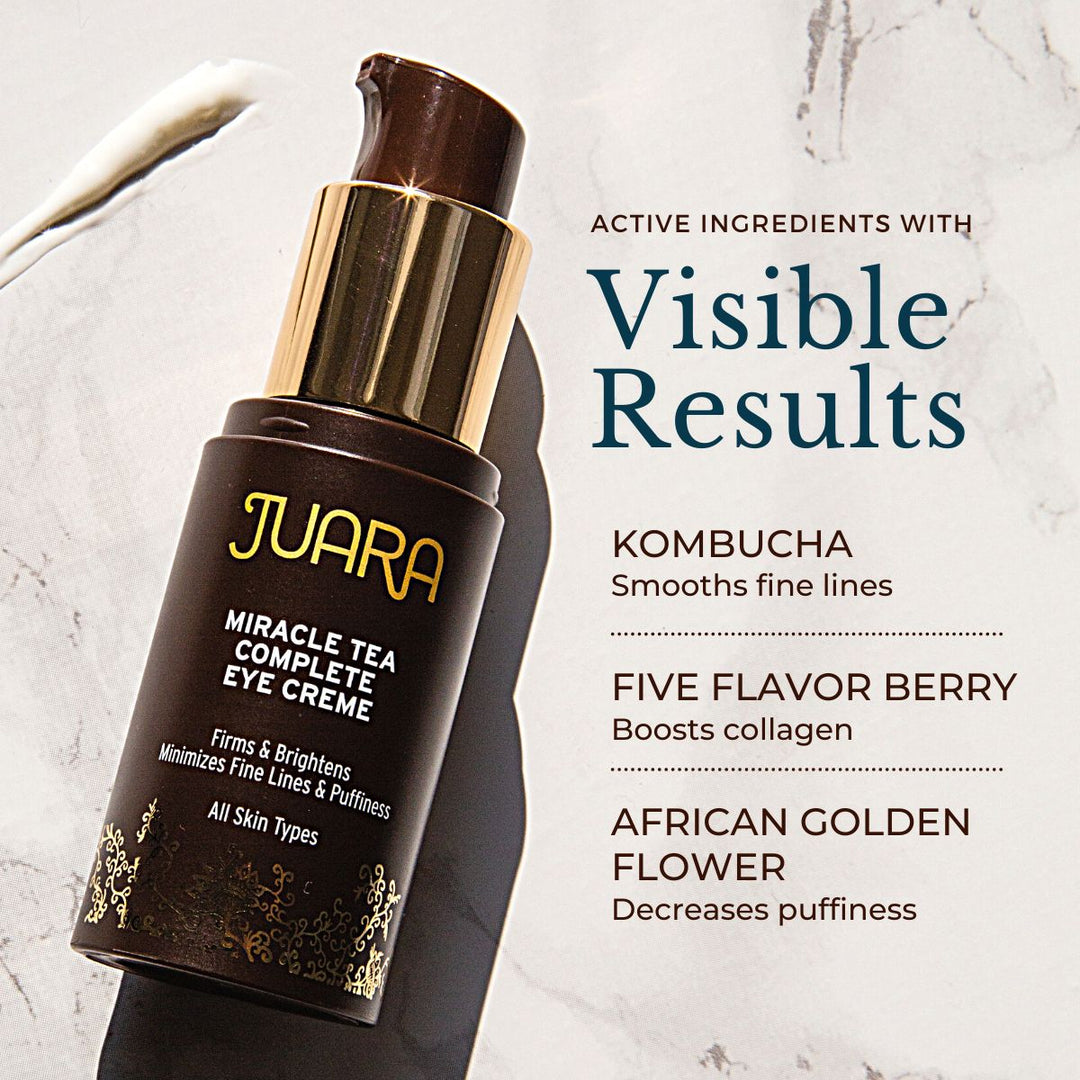 Miracle Tea Eye Creme For Bags Under Eyes With Turmeric, 0.5 oz
Regular price
$12000 NZD
$120.00 NZD
Sustainably grown ingredients. Cruelty free. No nasties.
Made with turmeric and boosted with skin-nurturing illipe butter, golden chamomile, and firming five flavor berry, this gentle, nourishing eye cream works to effectively reduce bags under the eyes, soothe fatigued and tired eyes, while also improving the appearance of dark circles, puffiness, and fine lines.
This eye treatment contains a proprietary JUARA Radiance Complex, featuring antioxidant turmeric, clove flower, Indian gooseberry, and energizing probiotic kombucha. Our multi-tasking tonic for targeted eye care has a light, pillow-like texture that plumps and pampers while addressing common concerns related to the delicate skin of your under-eye area. Perfect for daily use as it also holds make-up in place, and also at night as it doesn't run into your eyes.
Blending traditional Indonesian ingredients - turmeric, clove flower, and Indian gooseberry - with energizing probiotic tea, this eye cream is youth-boosting and preventive eye care for all skin types.
Scent: Fragrance-free
Texture: Silky, lightweight cream
Color: Matte white
Deeply moisturizing ingredients boost radiance, firm and smooth the eye area, leaving eyes looking well-rested and refreshed.

A mattifying formula can be used under concealer for a boost of hydration without causing oiliness or shine.

Eye treatment works to prevent signs of stress, fatigue, or aging before they appear.

Verified by EWG.org as being safe for your health.
This product can be applied morning and night to the eye contour, under eye, and along the brow bone.

After applying a few small dots of product in the desired area, tap the product into the skin very gently, using your ring fingers until smooth.

If this is a new bottle, you may need to pump several times until the product begins dispensing.
If you experience difficulty with the product not dispensing after repeated pumps, a small air pocket might be trapped inside the bottle. Please do not open the bottle. To fix the issue, insert the tip of a paperclip into the small hole at the bottom of the bottle, and gently push upwards to release the trapped air until you encounter resistance.
Following cleaning, Miracle Tea Complete Eye Cream can be safely applied on top of JUARA Clove Flower & Turmeric Anti-Aging Serum for the ultimate, tightening, lightening, and brightening treatment. You can also follow with your favorite JUARA moisturizer to lock in hydration and promote an overall glowing complexion.
Fermented Sweet Black Tea (Kombucha): Smooths fine lines & contains antioxidants to neutralize the effects of free radicals, and instantly increases radiance and luster. Rich in Vitamin B, bringing energy and vitality to the skin.
African Golden Flower/Marigold: Decreases puffiness and dark circles. On the skin, Marigold is also known to decrease inflammation, promote lymphatic drainage, and lessen the appearance of dark circles and broken capillaries.
Turmeric: Brightens, contains powerful anti-inflammatory properties, and provides antioxidant protection from free radicals that can damage the skin. A millenia-old staple of Indonesian health and beauty treatments.
Five Flavor Berry: Firms and boosts collagen production. On the skin, this antioxidant-rich berry instantly firms and tightens. An age-defying superfood revered for over a thousand years, the Five Flavor Berry gets its name from its unique combination of all five taste groups: sour, bitter, sweet, spicy, and salty.
Candlenut Oil: Moisturizes and softens skin with a non-greasy, velvety feel. Rich in linoleic and linolenic acid, candlenut oil moisturizes and helps mend rough, chapped skin.
All Ingredients: Water, Candlenut (Aleurites moluccana) Oil, Ethylhexyl Olivate, Dicaprylyl Ether*, Cetearyl Olivate*, Shea (Butyrospermum parkii) Butter, Stearyl Alcohol, Rice Bran (Oryza sativa) Oil, Sorbitan Olivate*, Cetearyl Alcohol*, Avocado (Persea gratissima) Oil, Phytosterols, Olive (Olea europaea) Fruit Oil, Illipe (Shorea stenoptera) Seed Butter, Aamla (Phyllanthus emblica) Fruit Extract, Sodium Hyaluronate, Tetrahydrocurcuminoids, Ferulic acid, Di-Potassium Glycyrrhizinate, Green Tea (Camellia sinensis) Leaf Extract, Plankton Extract, Brown Algae (Ascophyllum nodosum) Extract, Red Algae (Asparagopsis armata) Extract, Golden Chamomile (Chrysanthellum indicum) Extract, Saccharomyces/Xylinum Black Tea Ferment, Five Flavor Berry (Schizandra chinensis) Fruit Extract*, Cucumber (Cucumis sativus) Fruit Extract, Cetyl Palmitate*, Sorbitan Palmitate*, Sorbitan Oleate*, Tocopherol, Butylene Glycol, Bismuth Oxychloride, Maltodextrin, Glycerin, Hydroxyethylcellulose, Citric Acid, Sodium Levulinate, Potassium Sorbate, Xanthan Gum*, Sodium Phytate.* NPA, ECOCERT or COSMOS Approved